Activation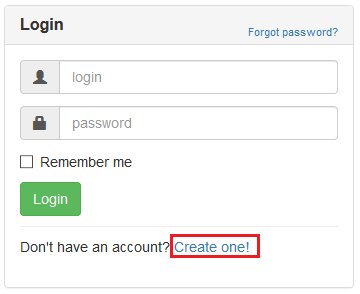 To utilize the Bio-Well device, a Client (User) must first create a Bio-Well software Account at www.bwacc.com and purchase a Subscription period. An active Account provides login access to the Bio-Well software.
Once a Client completes an initial scan, the ChipID of that Bio-Well device will automatically be assigned to that Account. Going forward, a User may only use that device with that Account
Each Bio-Well device requires its own Subscription/Account.
If a Client somehow later connects a different Bio-Well device, and completes a scan under the same Account, the Account will become locked by the system. In such cases, the Client should contact Bio-Well Support to explain the situation and submit an Account Unlock Request.
Bio-Well software access is available only for Active (paid) Accounts. If an Account expires, the Client will not be able to log in to the software and will have no access to the Account's scan history through Bio-Well's cloud-hosted database.
Payments are processed by PayPal. Bio-Well does not process or store any personal financial data. From within a Client's Account (www.bwacc.com), Subscriptions may be purchased through the PayPal interface by using either a PayPal account or credit/debit card accepted by PayPal.
Two Subscription options are available: Monthly payment @ 20$; Yearly payment @ 220$ (1 month Free).
Payments may be processed either Manually or Automatically.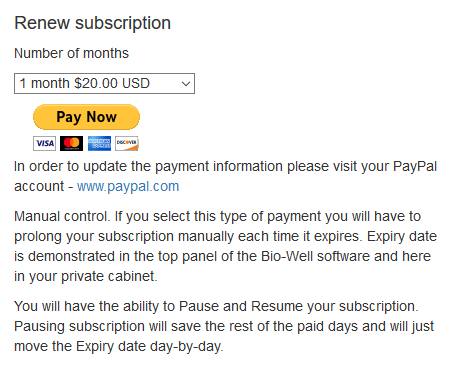 Manual billing: If you select this type of payment you will have to extend your subscription manually each time it expires. The Expiration Date may be found in the top panel of the Bio-Well software, and within a Client's online Account.
Clients may choose 1, 2, 3, 6, 9 or 12-month periods. Purchasing a 12-month period provides a discount of 1 free month.

Clients have the option to Pause and Resume the Subscription from within the online Account. Pausing a Subscription will extend the expiration date to avoid future payments, however, software access will be denied until the Subscription is Resumed.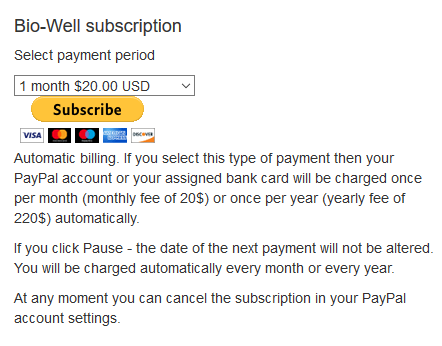 Automatic billing: If you select this option, the Client's PayPal account, or assigned bank card, will automatically be charged once per month (monthly fee of $20) or once per year (yearly fee of $220).
The Pause option is not available for Automatic billing.
Automatic billing subscriptions may only be canceled from within a Client's PayPal Account.
If you have read and understood all the above mentioned information and also our privacy policy and terms of use, please proceed to www.bwacc.com to create an Account and choose a Subscription period.